What are the Best Alternatives to coinmarketcap.com?
The best coinmarketcap alternatives are worth knowing as the crypto market expands.
Introduction
CoinMarketCap (CMC) has become a household name in the financial market.
It is clearly renowned for its dominance in cryptocurrency valuations; this platform is ranked #252 on the chart of American leading websites by Alexa.
On the global stage, CMC is ranked as the 317th leading website by popularity and usage.
Now, you might want to ask, what does this dominance indicate?
It simply emphasizes CoinMarketCap's strong influence on the crypto market.
It can either upset or normalise the market. CMC has achieved quite a milestone, however, there's the view of over-reliance on the platform.
Over-reliance on a single data repository does not only have its shortcomings, it is also not right for transparency and a decentralized ecosystem.
Not too long ago, crypto markets plunged, and this occurrence was partially attributed to CMC effecting a change in the manner with which it evaluates cryptocurrencies market capitalization and the removal of Korean exchanges.
The real problem at the time wasn't just the removal of Korean exchanges, but the fact that virtually all currencies on the exchanges were trading higher compared with other global exchanges.
Thus, the unanticipated switch created a false impression that cryptos were nose-diving. The effect was a $120 billion drop in CoinMarketCap's valuation of the cryptocurrency market thereby, leading to investors experiencing a huge buy/sell market chaos. Such is the power that CMC wields over the crypto market scene.
This particular incident demonstrated the risk/panic associated with the total dependence of a decentralized system such as the cryptosphere on a solitary data repository.
Hence, the need for investors and crypto enthusiasts to exercise wisdom by using other alternatives to CMC while trading.
However, this is not to say that CoinMarketCap is a problematic platform. As a matter of fact, it is user-friendly, very comprehensive and still holds its stand as the market-leading data source.
But for those seeking a switch from the norm, there is quite a number price tracking website you can look up. You must note that some of these alternative platforms use the CMC API, while others source their data independent of CMC.
For those who do not agree with data from CMC and desire alternative platforms that work so well, the list of five CMC alternatives you must consider follows:
---
5 Best Alternatives to CoinMarketCap
The following are the top contenders for the CoinMarketCap throne:
LiveCoinWatch
Onchainfx
CoinGecko
CryptoCompare
Bitinfocharts
LiveCoinWatch
This crypto price tracking website is one of the best available in the cryptosphere and is often regarded as the most popular alternative to CoinMarketCap.
LiveCoinWatch.com offers historical data and graphs for over a thousand digital currencies including Ethereum, Bitcoins and altcoins from leading crypto exchange platform.
With LiveCoinWatch, you will have access to accurate altcoin and bitcoin exchanges volume and price tracks across the market.
LCW also monitors volume movement across over 120 exchanges and it offers the unique On/Off feature for Korean markets i.e. one might choose to allow LiveCoinWatch include Korean markets in its crypto market evaluation.
In addition to its already excellent features, LCW also displays prices in 30+ fiat currencies with an offering of a portfolio management tool after signing up.
On this platform, investors are also provided with info on some of the best cryptocurrency exchanges in order of market exchange volume.
You can also create a watchlist for specific coins of interest and likewise set the rate at which you would like changes in the value of the digital assets to be monitored.
Onchainfx
Onchainfx.com is an investor-oriented platform with a broad range of crypto metrics than most other websites.
It provides a compact display layout and zero homepage ads. Some of the various data available on this website include coin market capitalization.
It also has coin future worth calculation up to 2050 assuming unit prices do not change, ROI, historical prices and issued supply percentage.
The future worth calculation feature allows investors to easily measure how inflation will impact several cryptoasset networks.
On this platform, it is also possible to juxtapose the growth of two different assets.
Additional features include BTC price equivalence and the Vladimir Club Cost (VLC) of a coin i.e. the amount it will cost to acquire 1% of 1% of its aggregate market supply.
CoinGecko
CoinGecko is another platform that checks all the boxes for an efficient and quantitative market condition analysis tool for a coin.
It has been in operation for quite some years and it boasts the largest team in the crypto pricing niche. Although similar to CMC, it offers additional unique features which make it an ideal tool for miners.
It executes cryptocurrency filtering by utilizing their respective hashing algorithms. This platform allows you to view and tracks prices of BTC and over 2500 cryptocurrencies in real-time with user-friendly charts, displaying different intervals.
Another huge plus to CoinGecko.com is the ability to view its UI in the top 15 global languages.
Furthermore, it offers API and widgets for various users and recently, it introduced the Beta version of its cryptocurrency mining calculator into the market.
Other peculiar features include an explicit coin exchange volume analysis, forthcoming and ongoing ICO indicators, crypto forum, GitHub activity and social network insight per coin.
Like every other alternative listed, investors are also provided with info on some of the best cryptocurrency exchanges in order of market exchange volume.
CryptoCompare
CryptoCompare started operations in the year 2014 the name www.cryptocompare.com and launched its website in July 2015.
The prolonged development process that ensued led it to become www.cryptocompare.comCryptoCompare has since become a renowned real-time crypto price tracking, volume analysis, market cap, and coin supply monitoring platform for various currencies.
This platform offers crypto price checks using elaborative charts and in fiat denominations such as JPY, USD, GBP, EUR.
Developers can also access the platform API for development purposes. Another plus to CryptoCompare is its free portfolio management platform it offers to developers in beta version.
Other features include the crypto forum, exchange reviews, crypto wallet comparisons to help you make an informed choice, exchange volume analysis, and cryptocoin mining analysis.
Just like CMC, Cryptocompare also has a large productive database of BTC exchanges and other cryptocurrency exchanges for pro and potential crypto investors to consider.
BitInfoCharts
Bitinfocharts.com is a credible and very useful crypto comparison website. It provides information on the number of executed transactions as well as their mean values for major cryptocurrencies.
There is also a data repository for block times, wallets, with the inclusion of rich and wealth distribution lists, Bitcoin and Ethereum mining calculators, and mining calculator for some other coin.
BitInfoCharts provides up-to-date info on the market performance of various cryptocurrencies. The avalanche of free bitcoin telegram signals making their way around the web also makes it easier for crypto enthusiasts to make guided decisions.
Read details on the GitHub repository status of each cryptocoin provides an insight on each coin and token that have been offered to the public.
To better improve this platform, continuous changes are being made to incorporate important market information from the crypto industry.
One of the popular features is the chart that shows millionaire crypto accounts.
---
Why are these Alternatives the Best Among Others?
There are several crypto exchange data aggregators out there that provide a ready insight into the market developments. While it is possible to point out several CMC alternatives, it is important to focus on options that meet a measurable standard. So, what stands out among the picks made in this article?
The CMC alternatives listed here are the best among several alternatives available all over the globe. The ranking they have is based on their 24/7 live tracking feature, real-time market data analysis, and watchlist features.
Their compact display layout and their user-friendly interface also stands out as worthy of mention.
Despite the numerous CMC alternatives available in the cryptosphere, these options make the cut to be worthy of the attention of crypto traders and users alike.
Read Next: Which Factors Contribute to the Change in the Price of Cryptocurrencies?
---
Conclusion
CoinMarketCap (CMC) is top of the list when it comes to crypto price tracking and it is often regarded as the search engine of digital currencies.
It has held this position for a while by reason of its service peculiarity and idealness for both pro investors and newbie. However, there is the need to break the over-reliance on a single platform, at least not when we have numerous alternatives to choose from.
This is not to say that CMC should not be used at all – just don't depend on it too much. In choosing a crypto price tracking and comparison platform, reliability and accuracy are two of the very important factors to consider.
By now you know that there are several other alternatives available in the crypto price tracking pool, each with peculiar features and services to consider.
In summary, while it is true that the volatility of cryptocurrencies requires immediate decisions, having a trusted data source can make a difference.
However, reviewing the alternatives to CoinMarketCap provides a good window to have a second opinion on the crypto market goings-on.
---
Disclaimer
The writer's views are expressed as a personal opinion and are for information purposes only. It is not intended to be investment advice. Seek a duly licensed professional for investment advice.
More Posts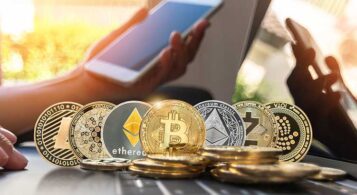 To this day, many experts continue to warn traders and investors against crypto trading for several reasons. But despite...
View All