Crypto Investment Strategies for People with No Time
Do you feel like HODLing is just not working anymore? Are you too busy to trade? Check out the 6 crypto investment strategies you can do without killing time!
Let's be honest- the last 6 months as a HODLer have been hard. The cryptomarket has hugely dropped in value, leaving us with only a bit more than half of our assets. Positivity has been a thing of the past on the market, and the very simple holding strategy is not profitable anymore in 2019.
Trading for many of us not an option. It requires so much time- each day at least a couple of hours to be able to follow market movements, set up trades and strategies. Without having 10-15 hours a week for trading, the question remains:
How can we earn profit from crypto without spending time?
In this article we have collected for you 6 crypto investment strategies you can do with maximum 2 hours weekly. Lazy investors, let's dive in!
---
6 Lazy Crypto Investment Strategies
1. BlockFi Interest Account
The cryptocurrency lending company BlockFi offers a deposit account with compound interest for crypto holders. The BIA brings a 6.2% annual percentage yield. The funds are custodied by the Gemini Trust and regulated by the New York Department of Financial Services, offering insurance for the digital assets held in their custody. The account is easy-to-open, and requires a minimum of 1 BTC or 25 ETH.
It is one of the most comfortable solutions on the market, as once deposited, the interest works on its own. Compared to traditional deposit accounts in fiat currency, which usually bring an interest somewhere between 0-3%, the interest rate is much higher. The possible threat could be the dropping value of BTC or ETH through a longer period of time, as in a past example between the 2018 January high (1 BTC= $17,572 USD) and 2019 January high (1 BTC = $4,055 USD).
Effort: Very low- once opened the account there is nothing more to do
Profit: 6.2%
Risk: low
2. Dividends, Staking and Masternodes
There are 3 main ways to earn with crypto rewards: dividends, staking and masternodes.
Dividend coins are crypto assets which pay a regular profit to the holder of the coin. An example of this is KuCoin. KuCoin pays out 50% of the trading fees as a daily bonus or dividend for its shareholders.
On proof-of-stake blockchains one earns the rewards for staking their share to achieve consensus. There are many coins which have this option for passive income: NEO, VeChain, Waves, EOS, Tezos and more.
Masternodes are network members, rewarded for validating transactions on the blockchain. To become a masternode there are often certain requirements by the platform: activity in the community, amount of coins held, computing power, etc. Masternode earn bigger rewards, but the initial investment is also higher.
Risks can include: long-term success and steady flow of reward on the chosen cryptocurrency platform, monopolization of the network by large token holders, and open wallets on exchanges to stake funds from.
For more information about this crypto investment strategy please check out this great summary[1] from Cointelegraph.
Effort: medium to high
Profit: from 0.7% to 1000%
Risk: medium
3. Crypto Index Funds
Crypto index funds work the same way as traditional index funds- they are a selection of different cryptocurrencies you can invest in as a whole. The value of the fund tracks the performance of the assets inside, and can yield to better profit and lower risk than investing in one currency only.
There are several funds on the market. The Crypto20[2] tokenized fund is a token which represents the whole index fund and is easily tradeable. The index fund tends to outperform the average managed fund, and is providing simplicity for the crypto investor.
Bitwise[3] also provides the Bitwise 10 Index Offshore Fund, which re-balances monthly the top 10 cryptocurrencies- although the investment is only possible from $100,000 USD.
While using an index fund does help to diversify our portfolio, and mitigate the risk, it does provide protection from the overall drop on the cryptocurrency market.
Effort: low
Profit: depending on market performance
Risk: low
4. Lend your Crypto
You can also opt to offer your crypto for lend and earn interest. There are several companies out there which can help you mitigate with borrowers: for example CoinLoan[4], where you can set your own terms for the loan (as period, interest rate and amount).
Nexo[5] allows you to lend stable coins (other cryptocurrencies coming soon), and earn a 6,5% compound interest.
ETH Lend is part of the Aave crypto financial solutions, where lenders can set their own lending terms and interest. The loans are backed by collateral, where 200% of the value is backed in the smart contract. If the borrower fails to pay back the lender still gets their assets back plus a liquidation fee from the collateral.
Effort: medium
Profit: 5-15%
Risk: medium
5. Trading bot
For a super smart option you can opt for a crypto trading bot. These automated algorithms will trade crypto for you, execute fast transactions, and take the emotion out of trading.
Similar algorithms are used for trading on the traditional financial markets. You can try the popular service from Cryptohopper[6], where you can practice your strategies before jumping in, automate trades, set up stop loss algorithms.
You can also sign up for the more sophisticated Pro Crypto Bots[7] if you are already familiar with the basics of algorithmic trading. Here[8] is also a crypto trader's journey through finding the right bot. While this solution can yield higher results, it requires experience in the overall cryptocurrency market and algorithmic trading.
Effort: high- especially for beginners in crypto trading
Profit: medium – high
Risk: high
6. Get a Crypto Broker
You can also opt to outsource your crypto trading and get a broker. Trained full-time experts will ensure you get maximum profits from your funds. BlockSmatter[9], for example, offers professional trading and brokerage services for bigger, qualified investors. Global Block[10] helps to navigate institutional and retail clients with a team of professional brokers. BitcoinBro[11] is an invitation-only personal and corporate cryptocurrency broker firm.
The critical element in employing a crypto broker is trust. Besides being profitable, we need to ensure that the trader manages our funds with integrity, keeps them safe from hacking attacks, and is truly aiming for our profit. We would recommend to look for testimonials, certifications, and finding a professional trader through trusted connections.
Effort: medium- until the right trader is found
Profit: medium – high
Risk: high
---
Final thought
No crypto investment strategy brings 100% success- but sitting idly on your funds will not do it either. The market has not shown a steady growth since 2017, and while our hopes are high, we might as well wait for the next bull run and earn some crypto in the meanwhile.
Asses how much time you would like to invest, what is the risk you are willing to take and the profit you are after- and we are sure you will be able to choose your new crypto investment strategy.
Do you know a better way? Let us know in the comments, and share this post with another lazy investor!
---
Disclaimer
The solutions listed here were brought to you without the support of any of the mentioned companies. This is not a promotion article. The list is not a comprehensive guide to all the solutions on the market. The options shown were discovered through online research in March 2019 by the writer, aiming to find the best crypto investment strategy for a busy life.
More Posts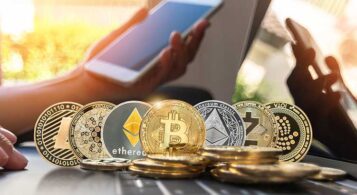 To this day, many experts continue to warn traders and investors against crypto trading for several reasons. But despite...
View All