7 Best Mobile Apps for Greater Trading on Cryptocurrency
These 7 mobile apps are worth considering for cryptocurrency trading beyond borders.
Cryptocurrencies and the underlying blockchain technology has been a favorite talking point for quite some time.
Since the decentralized distributed ledger became common knowledge, users have slowly but surely been looking into how they can invest.
In most cases, cryptocurrency exchanges are the easiest ways to purchase the digital asset.
Many exchanges offer a streamlined approach to invest, some even allowing for credit and debit card purchases. That said, some trading platforms only provide a web-based application.
For day-traders and heavy investors, this isn't exactly ideal. Users with that much investment will want access to exchanges as often as they can.
Fortunately for them, some big trades have a mobile application for just that purpose. Here, we're going to break down the best applications for trading cryptocurrency on the iPhone and iPad.
---
Best Cryptocurrency Trading Apps for iPhone and iPad
1. Binance
As one of the worlds largest cryptocurrency exchanges, it only makes sense that the Binance mobile app reflects that.
Binance is fantastic because it offers a wide variety of cryptocurrencies. NEO, XRP, IOTA, and ETH are just a few, with more coming out all the time.
The mobile app offers both buy and sell options and works fantastically on all iOS devices.
To use the app, all you have to do is create an account and verify it. Then, you can do any sort of trading you'd like, whenever you'd want.
Plus, Binance has its own token: the BNB token. This specialized asset saves you a ton of money on trading fees, lowering your overall spending.
2. Evercoin
Evercoin doesn't require log-in details. Instead, you can directly purchase and sell cryptocurrencies based on wallet addresses. As of this writing, the app supports LTC, XRP, DASH, and Dogecoin, among others.
The best part about no log-in details is the security and speed of the application.
You can just open the app and make your trades – an essential aspect in such a volatile market. On top of all this, Evercoin has some of the lowest transaction fees on the market.
A lack of identity verification and quick setup make Evercoin an excellent place for newer investors to start.
In fact, a currency transfer merely takes 15 minutes to start. That's a competitive time frame if we've ever heard of one.
3. Bibox
Bibox is a Chinese exchange lead by the co-founder of OKCoin, among other experienced members in the cryptocurrency scene. Believe it or not, as of this writing, Bibox trends higher than Binance at times.
Similar to Binance, Bibox offers its own coin that provides a 50% discount on trading fees. The application provides a detailed chart with a ton of features as well as trading advice via artificial intelligence.
Bibox is much more than just a cryptocurrency trading platform. It offers training resources to help get the best returns possible. Plus, with plug-ins like RESTful and Fix, Bibox helps to minimize risk.
4. Bitfinex
When it comes to volume, Bitfinex is one of the largest exchanges in the world. The platform offers leveraged margin trades and KYC-enabled cryptocurrency withdrawals.
Basic accounts can withdraw up to 3 Bitcoin per day, while advanced ones can do up to 100/day.
However, it's important to note that Bitfinex doesn't allow for fiat currency trades. It is, in fact, a crypto-only exchange.
The exchange requires you to sign up with quite a bit of information. Those who don't mind giving their identity up should have no problems on Bitfinex.
---
Best Cryptocurrency Trading Apps for Android
1. Coinbase Bitcoin Wallet
Though it offers a limited selection of investments, the Coinbase Bitcoin wallet provides a safe, trustworthy storage solution.
Right now, Coinbase only includes support for Bitcoin, Ethereum, Bitcoin Cash, and Litecoin. However, if you trade mainly in those currencies, you're set to make good money with Coinbase.
The Coinbase wallet enables trading between different wallet addresses with ease. Also, you can even disable phone access to the account in case of theft or loss of the device.
The user interface is incredibly well designed too so anyone can enjoy the trading aspects of this application.
2. CEX
CEX is another exchange that allows you to buy with a credit or debit card. It's been around for a long time, launching in 2013 purely for Bitcoin.
Also, CEX provided a cloud mining pool, at one point holding 42% of all network power.
That said, the platform closed its mining operations in January of 2015.
Nowadays, it's purely an exchange that handles BTC, ETH, BCH, BTG, DASH, XRP, XLM, and ZEC. Not a bad portfolio, that.
CEX incorporates KYC and AML policies under FINCEN and requires identity verification before any platform usage.
Alongside credit/debit cards, CEX allows for wire and SEPA money transfers as well.
When you begin a trade on CEX, the current price is frozen for 120 seconds. You'll then input your currency choice and how you'd like to purchase it.
However, while this is a fantastic security option, users of CEX often complain of hidden fees.
The thing is, extra charges aren't hidden, they are just incorporated into the original price that you see. Generally, payments are 7% on the platform.
3. Coins.Ph
Based in the Philippine's, Coins.Ph provides users with two wallet addresses: a Bitcoin wallet and a Peso wallet.
The difference here is the Peso wallet, which provides PHP encryption instead while Bitcoin uses… well, Bitcoin.
Fortunately, these conversions happen automatically. Bitcoin sent to your PHP wallet is automatically converted into PHP based on the dollar exchange rate.
Conversely, the Bitcoin wallet handles purely Bitcoin. Of course, these work with fiat currency conversions as well.
Accounts are limited initially to 2,000 PHP. To remove this, one must verify their account by providing a drivers license and billing statement. Verification takes around two days, and they allow for 400,000 PHP a day.
That limitation won't be an issue for most users, but big-time traders will want to verify.
Also, the Coins.Ph application links to a bank account. You can also receive free PHP by referring friends to the platform.
---
Advantages of Using These Apps For Trading
Using applications for trading is incredibly convenient. Doing so provides you access to your coins and the market at any moment.
You can trade, buy, sell, and save your investment as a price fluctuates.
Plus, applications provide the ability to become a day trader. Sure, you shouldn't keep all of your investment on your mobile device or exchange.
However, you can keep a small amount to use whenever you'd like. By limiting yourself, you could turn that little amount into a big profit.
---
Conclusion
There are all sorts of cryptocurrency mobile applications on both Android and iOS. However, it's important to research which exchanges are the best possible ones.
Cryptocurrencies are just getting started. Since you're getting in early, knowing how to store your digital assets is an essential part of being involved.
Read Next: What is Ledger Wallet & Which Coins are Supported by Ledger Wallet?
Check which applications fulfill your needs, and decide which is the best possible for you. Some users may want lower exchange rates, while others are happy to pay for better features.
Other exchanges are free while some require a monthly fee. The fact is, everyone has their own preferences, and hopefully, this list provides an option for all.
Image Credits
Feature Image: Shutterstock.com
In Post Image: www.apkmonk.com & www.igeeksblog.com/
---
Disclaimer
The writer's views are expressed as a personal opinion and are for information purposes only. It is not intended to be investment advice. Seek a duly licensed professional for investment advice.
More Posts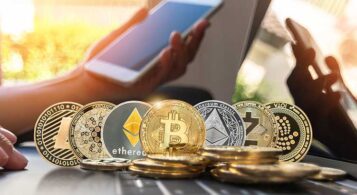 To this day, many experts continue to warn traders and investors against crypto trading for several reasons. But despite...
View All