What are GameCredits? Everything a Newbie Should Know
Understanding GameCredits and how it will change the Online Game Industry.
Introduction
There's no denying it – cryptocurrencies are currently hot right now, including the breakthrough technology behind it, called Blockchain.
If you haven't been living under a rock for the past year or so, you might have heard this word a few times.
Everyone's pretty excited about it. And if you knew the exact implications of this new innovation, you'd be as excited as they are!
At the heart of this technological breakthrough is the concept of decentralization, the idea that there's no need for one single company or entity to monitor and secure transactions.
Unlike banks or governments that can and have failed in the past when it comes to our financial security, blockchain is the first system that's immutable, reliable and completely fraud-proof. That's a very, very big thing.
And it will come as to no surprise that the $100 billion dollar gaming industry, with billions of users worldwide, won't be far behind in using Blockchain to revolutionize itself.
---
What are GameCredits?
Enter GameCredits, the game industry's very own open-source, peer-to-peer, in-game cryptocurrency platform.
It's goal is to become the universal payment system for the entire gaming industry, to solve some long-standing issues of all the major players involved, from game developers all the way to the gamers themselves, and speed up the adoption of cryptocurrency as an alternative to traditional currencies.
---
What is GameCredits Inc.?
GameCredits is developed by GameCredits, Inc and was first established in 2015. Back then it was called GamersCoin (GMC).
Innovating in a new industry requires a lot in the way of knowledge and experience, and thankfully, this company has plenty of it, thanks to its solid management team composed of seasoned veterans from the gaming and cryptocurrency fields.
---
What team is behind GameCredits?
Founder and CEO Sergey Sholom has extensive experience in gaming, having successfully founded Datacroft Games, with a slew of successful games from MMORPGs to casual shooter genres to his name, with over 12 million registered users at the time of this writing.
He also created Appmarka, a platform that hosts over 1,000 games from developers worldwide.
Product Director Maxim Sholom has overseen the success of many games over the course of his 12-year game industry experience, including Getting the Gun. A Ph.D. holder, he heads the development of the GameCredits Mobile Store, GPlay.
---
How is the GameCredits Ecosystem?
So, what's so special and revolutionary about GameCredits? For one, it will make in-game payments easier and more secure for gamers and eliminates restrictions such as deposit limits.
Forget about your account being hacked or your in-game credits being stolen. Blockchain technology ensures security and anonymity when sending payments for your in-game items and perks.
And you know what the best part is?
You can use the earned in one game in another game, making your credits go a very long way!
Plus, it increases in value over time as more users adopt it, giving you more purchasing power over time. It's playing and investing at the same time.
How cool is that?
Developers can also benefit a lot from the GameCredits platform. They can bypass any commission and added fees levied by banks and thereby improve their revenue significantly.
And compared with other game distribution platforms, developers receive up to 90% of the revenue from every purchase.
In deference to the credibility of GameCredits on crypto exchange platforms, here is a summary of the latest transactions:
---
What is Gamecredits mining?
For those interested in GameCredit's mining specifications, it is based on an improved version of Litecoin using the Scrypt hash algorithm, a faster but more memory intensive variant of the more popular SHA-256 hash used by Bitcoin.
A GameCredit block is mined approximately every 90 seconds, and each successful miner is rewarded with 25 coins. Retargeting is done every block. The maximum coins ever to be mined is capped at 84 million.
As with any other cryptocurrency, looking into the profitability of mining it is of extreme importance before committing to any equipment. There is no way around it.
Once a miner (a computer in the network) solves the puzzle, it broadcasts the solution to the network, and he is allowed to create the next block of transactions in the chain.
Oh, and he gets rewarded in the process with more coins. This is chiefly how profit is made by mining cryptocurrencies and the only way coins are validly created.
The problem is, this process is very computationally intensive, requiring raw computation power way beyond that of any one single machine can reasonably provide.
To turn a profit, one has to earn rewards enough to offset any electricity costs as a result of your computer running these calculations, with excess as profit. You can check these using any mining profitability calculator online, or you can click here.
---
What comes in the List of Mining Pools?
You can join a mining pool to increase the odds of success in mining GameCredits.
Mining pools are a group of computers that band together to solve a block, with the rewards split among the members based on each of their contributions, measured in hash rate (basically the number of "attempts" a computer did to try and solve the block), less any fees.
There are several GameCredits mining pool available, and you can start with these:
1. Suprnova
2. Hash to coins (h2c)
3. Game pool to
4. Acidpool
---
What is Mobile Go Token?
Another innovative application of blockchain technology, Mobile GO is a blockchain-powered token that will disrupt the world of eSports. With it, players can engage in peer-to-peer game matches and tournaments directly, without the need for a middleman.
The token system works similar to a score or experience points in some games. This is huge for competitive gamers!
It will also break down the barriers of entry into professional gaming by allowing anyone, and not just the pros, to compete for tokens and monetary prizes. These tokens can be used as well to buy in-game perks or discounts.
---
What are the Problems with GameCredits?
The only potential issue I see with the GameCredits system is the wallet. Specifically, that it is hosted on the system, hence you don't have access to your private keys. Private keys are crucial for making transactions in a secure manner.
It bypasses this by saying that it is designed to prevent fraud, and that they use two-factor authentication to make transactions more secure.
---
How to Buy GameCredits Cryptocurrency?
In terms of buying your own GameCredits, it's quite easy. GameCredits is listed in all major exchanges, and in addition can be easily bought from the platform itself using traditional currency like the US dollar.
GameCredits features its own wallet and payment gateway that makes this all possible.
The most popular market for GameCredits is BitBay, while the best cryptocurrency exchanges where you can get GameCredits include Poloniex and Bittrex.
Changelly is another crypto exchange platform option that allows you to exchange currently existing cryptocurrencies, like BTC or ETH, into GameCredits.
In the future, more cryptocurrencies and traditional currencies will be added to the mix to facilitate wider adoption in the future.
Check out below for a complete list of where to get GameCredits, including the ones mentioned above:
---
What are GameCredits (GAME) Wallets?
The platform's official wallet is called GWallet, where you can store all those precious GameCredits. It is a hosted wallet with no access to your private keys, but fortunately it features robust security and authentication features to help put your mind at ease.
So what's in store for game credits in the near future? For one, they are serious about building a complete and revolutionary gaming ecosystem, revolving around the GameCredits cryptocurrency.
An example is GameGG, an upcoming matchmaking platform where players can engage in PvP matches with others on the platform, either for fun or for money.
It even features its own mining app! GShare allows your computer to become a GameCredits miner with just a single click, utilizing excess CPU and GPU for mining to generate GameCredits that is automatically credited to your wallet over time.
You then use it to buy games or contribute something meaningful in the real world by contributing to charities around the world.
Now that's sharing and caring! If you're excited about this and can't quite wait, head on over there now to the GNation website and start mining.
---
What is the Future of GameCredits?
GameCredits has also closed a partnership deal with Unity, developer of game engines for such popular games like Temple Run and Hearthstone.
With it, games developed using the Unity engine can now implement the GameCredits payment system right into their game.
Expanding into fantasy sports, they have also announced a partnership with Fan Duel and with it exposure to its potential base of over six million users.
And for would be traders, there's also good news as well. With the promising benefits of GameCredits, the wide adoption of this cryptocurrency can increase the user base, increasing the currency's value for investors, and in turn influencing more demand for games to adopt it and ultimately further increase its users base, creating a virtuous cycle.
And with the gaming industry not poised to slow down anytime soon, this cycle could continue well into the distant future.
Read Next – Crypto Assets: How to Store and Secure Your Investment
---
Conclusion
I am as well confident that pushing the blockchain technology to its limits will happen not in the financial sector, but in other industries like gaming. The problem with financial applications comes down to one word: regulation.
The gaming industry has no such problem, and with its open nature and "boldly going where no one has gone before" attitude, innovations will continue to be had in this sector. And GameCredits has paved the way for that.
It would be an understatement to say that it is one the best things that are happening to the gaming industry right now!
Never before has a single thing make such a huge impact on all the players involved, from the developers and distributors all the way to the gamers themselves.
Such is the power of the GameCredits platform, and all I can say is, it's a great time to be a video gamer and a cryptocurrency trader!
You can get into the hottest gaming cryptocurrency today! Head on over to GC's official site to start earning GameCredits through the GShare app or by buying through any of the crypto exchanges that support it.
Image Credits
Feature img – Shutterstock.com
Inpost-img – Provided by author, coinsutra.com, bitmakler.net
---
Disclaimer
The writer's views are expressed as a personal opinion and are for information purposes only. It is not intended to be investment advice. Seek a duly licensed professional for investment advice.
More Posts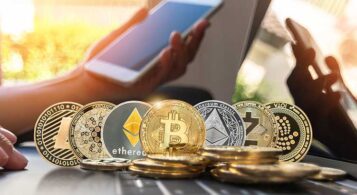 To this day, many experts continue to warn traders and investors against crypto trading for several reasons. But despite...
View All