How Is ICO Model Beneficial To Start-Ups And Small Businesses?
The ICO model is revolutionary and it is changing the way start-ups are funded.
You probably have heard about ICO at one time or the other and maybe you have even stumbled on it while browsing the internet. Perhaps you are wondering what it is and how you can use it in your small businesses and start-ups.
In this article, we will show you all the important things you need to know about ICO, and you can thereafter incorporate it in your businesses.
What is an ICO?
ICOs are generally money-raising mechanisms that are usually carried out on the blockchain. The term ICO is an acronym for "Initial Coin Offering". It is basically a way that entrepreneurs fund their new projects by pre-selling their tokens or coins to interested investors.
In order to attract the interest of the general public and make investors out of them; the entrepreneur usually will present a detailed white paper which describes the model of the project as well as the backup technical data. Other details that can be found in the whitepaper include the following:
Duration of the project with details of activities that will be done during the period.
A target budget for the ICO which will also include details like the total number of tokens that will be generated, sold or distributed, and retained by them.
More recently, many entrepreneurs now include Bounties in their projects. Those who use a bounty program, do so by referral schemes and publicity via social media.
Most ICOs use the ERC20 Token standard for their projects because of the convenience[1] it affords them. In fact, in most cases, the wallet where your tokens or coins would be sent after the initial coin offering would also be an ERC20 wallet.
In addition, ICOs require you to deposit Bitcoin or Ethereum in exchange for their coin.
This would be done by an automated program called the Smart Contract which converts the deposited Bitcoin or Ethereum into the equivalent token.
Options in Current Funding Landscape
1. Crowdfunding
This is quite an effective way of raising money to execute projects. Usually, entrepreneurs request for the support of the public majorly via the internet, and may even offer them incentives if they support their project.
As a result, those who believe in the project pledge little amounts of money that amount to a big sum when accumulated. For record purposes; an estimate of about US$34 billion[2] was said to have been raised by crowdfunding in the year 2017 globally.
2. Get a Bank Loan
Taking a loan is another alternative way to raise funds for your project. Although, it was quite difficult in the past to secure loans for a project because of the requirements that many banks put forward.
The collaterals, the need for one or more guarantors, the high-interest rates, and other requirements may not be easy to put up with. However, it is quite easier these days as many organizations that do not require any collateral or guarantor have come up. They offer you an itch-free loan service.
3. Angel Investor
Most angel investors have retired highly influential entrepreneurs who are not primarily interested in the monetary returns they get from funding your project. Rather, a greater portion of them wants to be kept abreast of the flow and dynamism of the current business world.
Although their investment may grant them ownership equity for a business; their support is of great value too. There are ways to gain the confidence of an angel investor so that they can support your project. These include:
I. Gaining Confidence: Endeavour to add an experienced person on your team. Such a person would be able to keep you and your investors calm no matter how difficult the economy is. In fact, you would gain the confidence of investors if you had an influential entrepreneur on your team.
II. Clarity of Purpose: You must be able to clearly differentiate your vision from your pursuit of what is trending. This is very important because whatever is done just to fit in with other persons doing the same things may crash on the long run.
III. Knowing your stuff: It is important to know exactly what you plan to achieve via your project. In such a competitive marketplace as we have in the world today, a well laid out strategy would help you stand out notwithstanding the competition that may exist in the market. Moreover, to impress an angel investor, you will need to convince them that you have what it takes to win in the competitive marketplace.
iv. Keep in touch: A lot of intelligence and discretion should be applied in this case. Peradventure your business does not appeal to an angel investor because of your level of experience in such business or any other factor; then you have to devise a means to keep convincing and persuading them to support your project.
Problems with the Current Funding Landscape
1. Poor credit history
Many young business starters are usually faced with the challenge of having no card transaction history. This often affects their chances of getting funds through loans, angel investors, crowdfunding, bonds, etc.
People hardly want to throw their investment into a project handled by an inexperienced person. Hence, young entrepreneurs tend to face the problem of not getting funds for their projects.
2. No company registration status
It is very important to register your company because it gives you access to many services that a sole proprietor won't get to enjoy. Although you would be required to make some regular payments when your company is registered; yet, it is beneficial since every debt incurred is also going to be a concern for the registering body.
3. Poor record of business
One thing that potential money lenders look out for is a record of your business transactions from past years. This tells them a lot about how well you can run and manage a business.
Therefore, if your business track record does not show a consistent profit on your part, you would most likely not receive support from them. If, however, your business shows a consistent profit over the years, then you most likely would get support from them.
The New Way of Funding: How an ICO Works?
The above-listed methods of raising funds are effective anyway. However, the world is not stuck with the approach. There are always revolutionary ideas on how to do things better. One of such ideas is the ICO.
Although this method uses the blockchain technology unlike the other means of raising funds, it is still an effective way of raising funds.
Before an organization make their official announcement concerning their tokens and declare their ICO, there are things that must have been put in place like the Whitepaper. The whitepaper is a document that is written to reduce the complexity of a particular concept and show the issuer's philosophy on the matter.
A whitepaper is a well-detailed document that is written in an academic manner to simplify the business focus of the company. Not only is it used to simplify things, but it is also used by companies to advertise their services as well as attract investors and customers to their business.
In the case of an ICO, a whitepaper would contain details about the project and other specific parameters that need to be known about the project: the number of tokens to be generated, distributed and/or retained.
It will also contain details about how many Initial Coin Offerings would be done during the pre-sale of tokens. It should also contain a "Frequently asked questions" section since the aim is to provide extensive information to the general public.
A whitepaper is then taken to the appropriate quarters on the blockchain community for support and guidance. After the whitepaper has been created, there would now be a creation of the security tokens to be sold during the ICO. These tokens are usually limited in supply and are sold at a very cheap price too (especially at the first ICO).
Information about the timeline of the ICO, token sale, price and quantity are facts that must also be provided for the public. Furthermore, the generated tokens must be limited in supply as this is a strategy to increase the demand for it; thereby resulting in an increased value of that particular coin.
In addition to all of these, many companies are now running bounty programs too. The bounty program is for those who do not want to buy the tokens but prefer to do some specific social media tasks as requested by the company itself. In many cases, bounty participants are added to the company's Telegram group.
A bounty program[3] usually offers a certain amount of tokens and its equivalent value in US$. The bounty program helps the token to become more popular and largely talked about so that there would be more investors at hand.
What to Look Out for in an ICO?
It is very important to note that one must be careful in investing money into ICOs because of fraudulent schemes. A lot of ICOs do not have any agenda to do any reasonable thing other than swindle people and earn money. Notwithstanding, there are ways of distinguishing such ICOs from the credible ones. You should be familiar with all of these:
I. The whitepaper, website and other communication media that such a company has must give clear and concise details about the project. It must be very obvious what their aim is. If this is lacking or if there is no cohesion in the communication media, then you should discard it.
II. Another thing to note well is the identity of the promoters of the ICO. A genuine business would definitely give t contact details as well as other necessary pieces of information. They should be known people. You could use search engines to validate their authenticity if possible. If you don't pay attention to such details, you might be scammed.
III. Credible ICOs will never ask you to give Bitcoin in exchange for more free coins. Rather, their tokens have a fixed price for which you would pay the Bitcoin equivalent to them.
IV. Also, no credible ICO would request that you should send them your private key for transactions. Doing that will result in your account being hacked as your private key can't be changed.
Challenges Common to ICO
I. Is an ICO the best way to raise funds?
You must know that ICOs are a blockchain project. Therefore, if you have any project that has no connection with the blockchain technology, then you should stick to other methods of fundraising.
II. How will you implement your token?
This may be a little difficult at some point. You would need to determine the number of tokens you are going to generate and distribute. You would also need to spell out the characteristics of the token so that whoever reads your white paper can clearly grasp what it is about.
III. Are you ready to answer a lot of questions?
Many people would have a lot of questions about your project especially because blockchain technology is really thriving despite its newbie status. You must devise useful means through which their questions will be answered. You could provide things like a very detailed white paper, a good customer service, as well as articles that address specific facts about your unique selling points.
iv. How will you stand out from other ICOs?
We live in a highly competitive world. Even the animal kingdom is not an exception in terms of competition. However, this challenge is one that can be addressed by maintaining a focus. No one person can offer everything the world requires; as such, focus on your unique strengths.
v. Are you operating within the regulatory framework?
Every organization works with regulations for the sake of order and discipline. The same is true for creating tokens too. You may need a legal advisor to keep you educated on the legal side of blockchain technology so you won't be found in something you can't cope with.
These are basic and important things to know about an ICO. Undoubtedly, the world is approaching a point where blockchain technology would become the order of the day. Consequently, ICOs may stand out as a prominent means of raising funds for projects, small businesses, and start-ups.
Image Credits
Feature Image: shutterstock.com
In Post Image: shutterstock.com, image provided by author
---
Disclaimer
The writer's views are expressed as a personal opinion and are for information purposes only. It is not intended to be investment advice. Seek a duly licensed professional for investment advice.
More Posts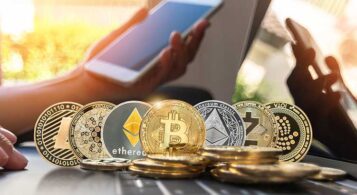 To this day, many experts continue to warn traders and investors against crypto trading for several reasons. But despite...
View All