Litecoin and Binance Coin: Two Examples Of Leadership in 2019
Litecoin and Binance Coin have proven to be very resilient digital assets. If they keep growing, they could have a leadership in 2019 over the crypto market.
We have seen how the cryptocurrency market has been in a bear trend for over a year. Since January 2018, most of the digital assets lost more than 80% of their value, including Litecoin (LTC) and Binance Coin (BNB).
Currently, there are several analysts that are talking about the end of the bear market and that we could be close to the beginning of a new bull run.
There are two digital assets that in the last months have been outperforming the whole cryptocurrency market. We are talking about Litecoin and Binance Coin. Although they have been built for different purposes and goals, they had similar behaviour in the last weeks.
---
Litecoin and Binance Coin: Leaders in the Crypto Space
Litecoin
Litecoin is the digital asset created by Charlie Lee in 2011 and that aims at becoming a virtual currency for processing payments between parties in a fast and cheap way. The virtual currency has been operating among the top 10 since it was launched to the market.
Litecoin has proven to be very resilient and in the last months, it has outperformed many other digital assets in the space. Since Litecoin dropped down to $23 last December, it more than doubled in value. Litecoin is currently being traded close to $55 and it has a market capitalization of $3.43 billion. This makes of Litecoin the 4th largest virtual currency after Bitcoin (BTC), Ethereum (ETH) and XRP.
In terms of BTC, Litecoin reached the same values it had in June 2018. Each LTC can be purchased for 0.0144 BTC, according to CoinMarketCap.
Since December 2018, Litecoin grew more than 143%. But why did Litecoin experienced such strong growth? There are many reasons that explain why Litecoin has been outperforming other assets.
One of the reasons is related to the release of the Litecoin Core 0.17.1 update. This improvement is expected to reduce network fees 10x and enhance the whole Litecoin network. Moreover, the Litecoin development team is currently working on solutions to make the digital asset fungible and more private.
Charlie Lee wrote on Twitter that fungibility is the only property found on money that is missing from Bitcoin and Litecoin. He said that after working on solving scaling issues (through the Lightning Network) their main focus is now making Litecoin more fungible by adding Confidential Transactions.
The market received this information in a very positive way. Litecoin was traded between the 9th and 7th position in the crypto market, but it ultimately scaled up to the fourth position, surpassing EOS, Bitcoin Cash (BCH), Stellar Lumens (LXM) or Tether (USDT). To implement these new improvements, Litecoin will have to go through a soft fork.
Litecoin has shown to be very well prepared for the future of the cryptocurrency market. It is leading the trend towards new implementations working side by side with Bitcoin. With meaningful enhancements and a serious developer team behind, Litecoin has helped the market find some bullishness amid a year-long bear trend.
Furthermore, Litecoin is also going to be experiencing a halving. That means that miners will be receiving half of the LTC they receive now every time they find a block. The halving is going to be happening[1] on August 7th, and it will reduce Litecoin's inflation from 9.01% per annum to 4.26%.
---
Binance Coin
Binance Coin, the digital asset used on the Binance exchange, has also been performing in a very positive way. Since December 2018, Binance Coin grew more than 232%, passing from $4.54 per coin to $15.1. Nonetheless, in terms of BTC, the digital asset has reached all-time highs. Each Binance Coin can be purchased for 0.00384 BTC.
But why did this virtual currency skyrocket during the last months? Binance is working in order to release the so-called Binance Chain and a decentralized exchange (DEX) called Binance DEX. In a recent AMA held by Changpeng Zhao, the CEO of Binance, he said that the Binance Coin will have the same role on the Binance Chain as Ether on the Ethereum network.
About it, Changpeng Zhao said[2]:
"Binance Coin on the Binance Chain is the same as the Ethereum coin on the Ethereum network. You will have to use it to pay for network transactions, as gas. Also, in most areas where you pay with Binance Coin, we do offer the option of paying in the token on the chain; if you issue a token on the Binance Chain, there are places where you can pay in the token that you issue. In those cases, you'll almost always get a discount, very similar to how Binance.com works."
This shows that the Binance Coin is going to be paying an important role on the Binance Chain, which is expected to be launched this year. Nowadays, users can pay for trading fees on the Binance exchange and purchase products around the world with BNB. Moreover, it is possible for investors to use BNB as a means of payment on the Binance Launchpad.
The Binance Launchpad is a project that was launched by the crypto exchange in order to offer investors the possibility to place their funds in recognized Initial Coin Offerings (ICOs).
Binance Coin seems to have a very positive future. Multicoin Capital, a cryptocurrency fund that invests in the digital currency space, released an in-depth assessment[3] and valuation of the Binance Coin. In this report, the company explains that Binance Coin is dramatically undervalued because it is a novel asset with properties that investors do not fully appreciate.
In order to give a proper value to the BNB coin, Multicoin Capital explains that it is important to think of this digital asset as a staking token, as a discount token and also as a payment token.
Currently, each BNB can be purchased for $15.18 and it has a market capitalization of $2.14 billion. Litecoin and Binance Coin combined own 4.15% of the total market capitalization in the crypto space.
Both digital assets have been performing very well in the last few months. Binance Coin reached the 7th position in the market and Litecoin is now the 4th most valuable digital asset. Clearly, these two virtual currencies have everything they need to be the market leaders they are.
---
Disclaimer
The writer's views are expressed as a personal opinion and are for information purposes only. It is not intended to be investment advice. Seek a duly licensed professional for investment advice.
More Posts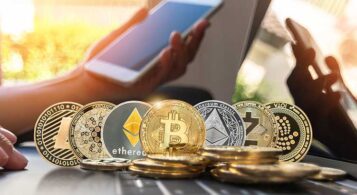 To this day, many experts continue to warn traders and investors against crypto trading for several reasons. But despite...
View All