How to Choose the Top Cryptocurrency Exchange?
Your guide to the top cryptocurrency exchanges and the inside information you cannot ignore.
You will find a huge list of cryptocurrency exchanges when searching over the internet.
But, the question is that can you trust them?
Knowing the headlines about hacks and attack on the cryptocurrency exchanges, it is really hard to trust them with your details.
Ever since the creation of Bitcoin, the market is on rise with multiple cryptocurrency investors and traders . To take advantage of the popularity of cryptocurrencies, and to be an early bird in the game, many cryptocurrency exchanges have come up as a business.
Many people tend to use the centralized exchanges even if hackers have already infiltrated their platforms. Coinbase, Binance, Bitstamp and Gemini are some of the centralized crypto exchanges that every crypto enthusiast is familiar with.
The decentralized exchanges are more secure than the centralized ones as they do not have to depend upon any intermediaries to store funds.
With over 200 decentralized exchanges you can choose from one of them but, let's look at some of the high-performing exchanges.
---
What are the top cryptocurrency exchanges?
AirSwap is a decentralized crypto exchange that focuses on expediting ERC20 trades. So, the Ethereum blockchain needs to speed up the transactions.
Through AirSwap, you will be able to control your assets without having to depend on intermediaries. The search feature of this exchange will allow you to easily find the tokens you want to trade or connect to a counterparty.
The trading process is comparatively easier as the platform requires you to find a Buyer/Seller of a particular token, and connect your wallet.
You can set an amount and make a trade after checking the price. MetaMask and Ledger wallets are compatible with the interface.
AirSwap does not charge anything. You will only have to pay the Ethereum blockchain transaction fee. ADT, AE, BAT, BNB, DEB, FUN, GNO, LRC, and ZRX are some of the tokens that AirSwap offers.
Shapeshift.io
Other than New York, you can trade through Shapeshift.io platform from almost any region. Discarding the fiat currencies completely, Shapeshift is where you can invest in P2P crypto-to-crypto trades completely. Quick trades and precise trades are the two options you can choose from.
However, the coins and tokens you find for trading on this platform may vary every week. It basically depends on the liquidity. You may find new projects listed for trade as they often gain liquidity faster before attaining slight stability.
Changelly
Changelly is quite a popular decentralized crypto exchange that features a unique automated system. The system will take the prices of the crypto assets from other exchanges and then calculate their average.
If you use the platform of Changelly for trading, you will base your strategy on this average. One advantage is that the fee does not fluctuate on Changelly, a mere 0.5% on each trade.
You will be able to perform smarter trades as the platform offers merchant APIs. These APIs allow the websites to enhance crypto trades with the help of a user-friendly widget.
Waves DEX
Waves DEX is a part of Waves that incorporates the positive aspects of a centralized exchange. You will not find the risks a centralized exchange usually faces here.
The Waves DEX platform conducts the order matching process in the same way as the centralized exchange but, it does not have access to your accounts.
As the decentralized system strengthens the security and privacy features, you need not worry about these aspects. You will even be able to launch a token on the Waves blockchain. It supports the fiat currencies for payment.
EtherDelta
EtherDelta is popular among the decentralized exchanges even if it was compromised recently. The crypto enthusiasts that want to invest in new ERC20 tokens that have not yet been listed visit EtherDelta.
The focus of EtherDelta is on Ethereum and ERC20 token trades like AirSwap. This way EtherDelta also helps the just-released ERC20 tokens to establish their markets.
IDEX
Decentralized Ethereum Asset Exchange or IDEX too concentrates on the peer to peer trading of the ERC20 tokens. To trade on IDEX you need to use your Ethereum wallet to deposit the tokens you want to trade on the exchange.
The decentralized exchange offers numerous tokens for the trader to choose from, REM, BWX, OLT, ATMI, MTC, PAI etc.
You will have the feel of a traditional exchange compared to Shapeshift.io and Changelly. The daily trading volume at IDEX has surpassed 1 million US dollars. This stats show that the exchange will grow considerably in the near future.
CryptoBridge
At CryptoBridge you will always have the control over your private keys and the decentralized exchange does not have access to your money at any point of time.
This decentralized exchange works with the BitShares Network and ensures safe deposit and withdrawal of the crypto assets. The trading fee is near about 0.2% while the withdrawal fee varies a little depending on the market.
Stellar DEX
You will many popular cryptocurrency pairs here and does not require AML/KYC. The exchange offers fiat payment options. You need to deposit 20 Stellar Lumens (XLM) to start trading at Stellar DEX.
Oasis DEX
When trading with Oasis DEX, you will require a MetaMask extension account or you can conduct trades through using web3, python or solidity. The exchange describes itself as "a liquidity pool on the Ethereum blockchain."
CounterParty
CounterParty focuses on peer to peer cryptocurrency trading by working with the Bitcoin blockchain. The platform allows the developers to create new digital assets that can be traded upon the CounterParty DEX.
The exchange offers a testnet where you can open two wallets and practice your hand at trading with "fake" assets completely free of cost.
live trading on CounterParty requires you to open a real wallet first. When trading at CounterParty you will encounter the terms "Total", "Real Estimated Total", "Miners fee", and "Redeemable fee".
You will also have the option to cancel orders from two places– where you had placed the orders and Exchange > Open Orders.
Read Next: Why You Should be Excited about 'WAVES' Cryptocurrency?
Many decentralized exchanges are in the developing phase and the next few months will see new rivals. The daily volumes may also increase as more and more people join these exchanges to enjoy trading without any intervention from intermediaries.
Image Credits
Feature Image: Shutterstock.com
In-Post Image: cryptocompare.com, ethereumworldnews.com, coincentral.com
---
Disclaimer
The writer's views are expressed as a personal opinion and are for information purposes only. It is not intended to be investment advice. Seek a duly licensed professional for investment advice.
More Posts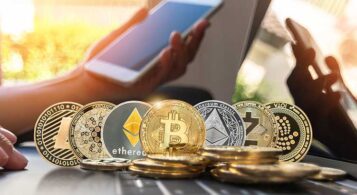 To this day, many experts continue to warn traders and investors against crypto trading for several reasons. But despite...
View All