Could Tron's Hard Fork Upgrade End the Bear Market? Justin Sun Seems to Think So!
The Founder and CEO of the Tron Foundation, Justin Sun, declared that his association will bring 1 billion BitTorrent clients into Tron and BTT, get the details.
Founder of Tron (TRX) and BitTorrent Token (BTT) announced[1] on February 23, 2019, the 3.5 Version of the Tron protocol. The success will result in a number of sophisticated features being added to Tron's major blockchain upgrade.
Tron, which presents itself as a competitor to Ethereum (ETH)[2] for launching cryptocurrency[3] tokens and other offerings, is preparing to increase its appeal to institutional users.
There are four primary upgrades and new features:
Multi-signature and acct mng, institution ready
Dynamic energy adjustment to real-time network performance
50% up performance & res usage
Better VM safety, events server for Dapps.
The account management and multi signature upgrades are really the most relevant for providing increased (personal) data security for all transactions on the blockchain. Mr. Sun reporterted[4] on Twitter:
"Multi-sig, acct mng and custody are three major requirements from institution. Recently we have received numerous demands from hedge funds, mainstream investors and financial institution. With 3.5 upgrade and the partnership with @BitGo, #TRON is ready!"
Given that blockchain protocols consume extremely high levels of energy, an additional upgrade entails what is now commonly referred to as the 'energy management system', which was implemented or installed to leverage and improve efficiency on the blockchain, as part of its network performance efforts.
In addition, the two new features of Multi-signature and Account management will be instrumental in meeting the needs of institutional clients of BitGo — which announced during that last week of February that it would start supporting TRX[5] in late 2019.
What is generating the most buzz at present are the multi-signature and account management features in the hard form, which lays the groundwork for institutional investment.
The third feature to be revamped in the hard work is performance with an important updrade for the network and events server for dApp[6] developers .
Prior to the hard fork's completion, Mr. Sun spoke[7] about the upgrade extensively during a recent Telegram-based AMA on Binance[8].
"This MainNet upgrade is a significant one for TRON since last December. Previous upgrades were mainly for setting up the network, while this upgrade is the first major improvement of the network performance."
---
"Without Multi-Signature, There Will Not Be Institutional Investors."
Mr. Sun spoke about the importance of multi-sig for institutional investors, stating that it will allow investors to better manage Tron (TRX) and Tron-based cryptocurrencies with multi-layer procedures. Sun said:
Indeed, the multi-signature feature is critical for large investors. It could allow investors to more efficiently manage Tron-based digital currencies with multi-layer procedures.
According to Mr. Sun:
"Multi-signature is essential to institutional investors and investors with high net worth because institutional investors usually use institutionalized approaches to keep cryptocurrency assets, which are managed by multiple parties and with multi-layer procedures. Therefore, multi-signature allows multi-layer management of cryptocurrencies. It's fair to say that without multi-signature, there will not be institutional investors."
---
Tron Closes on 2 Million Accounts. What's Next?
Before the launch of Tron (TRX) MainNet, Justin Sun informed the community that the coin could be amongst the top 6 coins.
"Our next goal is to become one of the top 6 cryptocurrencies in the world. We have actually achieved top 6 briefly on January 5, 2018 during TRON's astounding sprint out the gate. In 2019, we will reclaim and secure this title, which will mark TRON's global status as a mainstream public blockchain and lay a solid foundation for competition with Ethereum", Sun noted.
At the moment, Tron (TRX) is the 10th largest coin by market cap. It is the youngest of the ten, but it has a strong team[9] and growing team. It is currently being traded at around $0.022 and it has a market capitalization of $1.53 billion. Meanwhile, BTT is being traded around $0.000811 and it has a market capitalization of $802 million.
TRON's Head of Protocol, Marcus Zhao, recently described[10] the growth of TRON's team and its timeline over the past eight months.
While reaching top 5 is naturally a main focus, Tron (TRX) is showing to the world that it is quite proficient.
Read Next: Bitcoin Gold Fork – Learn [New Strategies] to 2X Your Bitcoins
What is the TRX Market Reaction?
Crypto markets are still reeling from the $17 billion dump that occurred on February 24, 2019. There doesn't appear that any crypto asset escaped the purge but some have done better than others. The majority of cryptos, including Ethereum and EOS, have dumped double figures[11].
Despite this month's pump and dump, TRX gained 30 percent since January and is one of the strongest altcoins. How high could the hard fork prices for TRX?
Will Tron (TRX) move to top five coins soon? A penny for your thought.
---
Disclaimer
The writer's views are expressed as a personal opinion and are for information purposes only. It is not intended to be investment advice. Seek a duly licensed professional for investment advice.
More Posts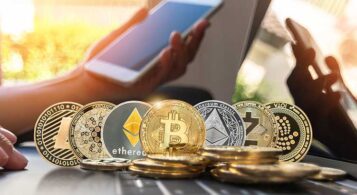 To this day, many experts continue to warn traders and investors against crypto trading for several reasons. But despite...
View All